This time "Matricaria chamomilla". Herbs as for apple like scent explain abaut.
Matricaria chamomilla
Ecology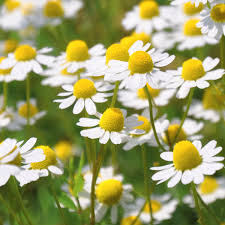 Matricaria chamomilla,Bloom small white flowers.
It grows up to 60 centimeters tall with a hollow flower bed and leaves that are not fragrant.
The yellow core of the flower is raised in a cone and the white petals are recurved.
Matricaria chamomilla
Various uses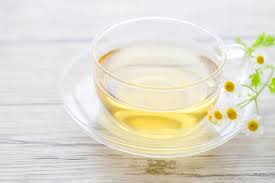 Cooking
Other than can be baked into baked goods such as bread and cookies to add a gorgeous aroma.
You can also cool down herbal tea and apply it to cold sweets such as jelly and ice cream.
Healthu
It has anti-inflammatory properties and thus can be effective for the beginning of a cold.
Drinking tea for stress, anxiety, insomnia, etc. can help calm your mood.
It is classified as a sesquiterpene in the group of compounds called terpenes, and exists mainly as an essential oil component.
It is also recommended for children and the elderly because of its mild action.
History
This herb is also ancient, dating back to Babylonian times, when it was used as a wound remedy for wounded soldiers.
In old European literature, it is recorded that it was mixed with onions to suppress the growth of centipedes and increase the strength of the soil.
Origin of the scientific name
Matricaia
The word is a combination of the words "womb" and "mather"
Chamomilla
Means a short apple.
Summary
An herb with small flowers that smell like apples and can be used for a wide range of purposes from cooking to minor ailments.
Postscript
In this article, I introduced German chamomile.
As an aside, there is a scene in the children's story Peter Rabbit where the main character's mother offers chamomile tea to calm him down, suggesting that it has been loved as a relaxing herb for a long time.
Why don't you try drinking chamomile tea when you feel irritated and take a break?
It is thanks to those who read my articles that I have been able to continue writing until today.
I'd be very happy if you could support me as I try to keep on writing, even though my articles are not very good.
That's it for this article. I will see you in the next article.
Advertising
I've opened a Twitter account. If you follow me, you can get the latest information about this blog and my knowledge of herbs.
↓
@けむさん
That's all for this article. See you in the next article.
Translated with www.DeepL.com/Translator (free version)